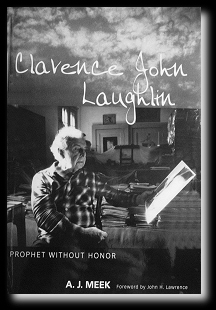 Clarence John Laughlin
Prophet Without Honor
A. J. Meek, with a foreword by John H. Lawrence
REVIEWS


Clarence Through a glass darkly
Sunday, March 11, 2007
By Susan Larson

"In old grimy streets, in isolated and decaying houses, sometimes far from the Vieux Carre, in little used and secluded cemeteries, there still sluggishly circulates the ebbing blood of the past, of a vigorous and vividly hued past." -- Clarence John Laughlin

New Orleans breeds eccentrics -- sometimes elevating them to cult status, sometimes neglecting them entirely. In "Clarence John Laughlin: Prophet without Honor," photographer and Louisiana State University art professor emeritus A.J. Meek gives us a fine portrait of one of the city's best known characters, photographer Clarence John Laughlin. Laughlin (1905-1985) is today most remembered for his classic work, "Ghosts Along the Mississippi," photographs of the vanishing plantations along the River Road, originally published in 1948 and reprinted many times since.

Meek paints a fascinating portrait of the Lake Charles native, who was a boy of 14 when his father died in the great flu epidemic of 1918. With a grieving mother and a crippled sister to support and care for, Laughlin's family life was demanding to say the least; his life would follow a pattern of responsibility and flight. He would marry five times -- twice to the same woman, Elizabeth Heintzen -- and he would not know his three children well during his lifetime.

Laughlin was an artist first and foremost. He began his professional life as a clerk at Whitney Bank, but took correspondence courses from LSU; in the '30s he began taking photographs and worked for the Army Corps of Engineers, spending considerable professional time photographing the construction of the New Orleans levee system. His life would be a difficult balancing act of creative and commercial work, of trying to make a living and see his vision through.

He met many of the noted photographers of his era, a time during which photography came into its own and achieved great popularity. Laughlin met Edward Weston, Ansel Adams, Minor White, the wonderful Imogen Cunningham (who once served him bonbons and sherry in a mischievous joke about how Laughlin thought he deserved to be treated like a king -- although he didn't quite get the joke). He would have disastrous arguments and longstanding feuds with most of them, especially the powerful Edward Steichen.

New Orleans itself would be Laughlin's muse -- he photographed the city's nooks and crannies, capturing or creating unusual scenes rather than the standard romantic images. Influenced by the surrealists, he assembled his own visionary and poetic reality and vocabulary, always insisting on writing long explanatory captions himself. These captions often became a source of contention with editors and curators of his work.

His working conditions were difficult. Thanks to the generosity of Edgar Stern, he was the beneficiary of an unusual arrangement: Laughlin worked in a darkroom in the basement at Longue Vue while the Stern family slept, trudging and schlepping supplies back and forth from his apartment at the Pontalba as well as other residences throughout the city on public transportation. (Laughlin didn't drive, and resisted much of 20th century technology.) Finally he settled in the Marigny near the end of his life, when he and Elizabeth reunited in his fifth, and final, marriage.

In 1981, the Historic New Orleans Collection acquired Laughlin's archive of photographs, correspondence and writings, both published and private, and curator John Lawrence's wonderful foreword describes a meaningful moment shared with the photographer. Meek has made fine use of this remarkable material, often letting his subject speak for himself in that distinctive and assertive voice. Readers grow to understand the difficulties of his life, both personal and professional, and see to what extent his prickly personality lay at the root of those problems.

There are reproductions of 40 photographs included, complete with Laughlin's idiosyncratic captions, and Meek illuminates each image for the reader, describing its creation and its personal meaning for the photographer.

One wishes for a bit more literary context for Laughlin's work -- we learn that his library was his great pride, and seemed at times to be regarded as one of the mysterious treasures of the city, but we don't learn much about Laughlin's reading, except for "Aesop's Fables," the tales of the Brothers Grimm, the work of the philosophers Nietzsche and Schopenhauer, and the French symbolists, particularly Charles Baudelaire. (Laughlin would finally travel to Baudelaire's grave in the Paris cemetery of Père-Lachaise near the end of his own life; his final resting place is in the same cemetery.) But there are tantalizing references -- a letter to science fiction writer Fritz Leiber, a planned visit to Ray Bradbury! -- that are left unexplored. And that magnificent library was dispersed throughout the libraries of Louisiana State University, rather than being left intact, as Laughlin had hoped.

Toward the end of his life, Laughlin began to receive some of the recognition he deserved; Meek recounts his acceptance of an honorary degree from Tulane University -- complete with a complaint about the "absurd attire" required for the occasion, strangely endearing and perfectly characteristic.

In one of his final writings -- a note composed during his final stay in Touro Infirmary, Laughlin summed it up:

"I have opened the doors of the world that we know and have found a world so fantastic, so incredible that it constitutes a new mode of existence -- a new kind of reality.

"The fused magma of reality created a fairy tale reality world -- which had the scent and texture of melted dreams and the hues of soluble visions."

Meek, in this admiring yet clear-eyed biography, makes us see the man behind those melted dreams, appreciate his achievements as well as his shortcomings, in a welcome look at a true New Orleans original.
---
Reviewed by GREG LANGLEY
Books editor

Clarence John Laughlin wanted to be a writer but worked in a bank, began his artistic career as a painter but is best known for his photography. The life of this enigmatic New Orleanian is the subject of Clarence John Laughlin: Prophet Without Honor (University Press of Mississippi, $30).

The book is by A.J. Meek, professor emeritus of art at LSU. Meek combines biography and criticism with reproductions of some of Laughlin's black and white photographs to explain the artist's complex creations. Early on, Meek says, Laughlin showed his maverick streak.

"He refused to photograph the usual beautiful locations of the French Quarter (Vieux Carre) and make the typical tourist snapshots, focusing instead on the overlooked Quarter architecture."

Laughlin began with a documentary style that informs his "masterwork" — Ghosts Along the Mississippi — originally published as a magazine piece in Harper's Bazaar and later expanded into a full-length book in 1948. Laughlin's compositions with disparate elements and his use of double exposures and darkroom techniques imbued his photographs with an otherness that earned him the title of father of American surrealism. But Meek makes it clear that no label can completely encompass the work of this prolific artist.

Meek writes with a factual, academic style that is surprisingly lively. His subject is partly responsible for that. Laughlin, who died in 1985, was a bright light who would bear no pale description. Readers with an interest in the arts, in photography and in Louisiana will find this book engrossing, entertaining and, perhaps, inspiring.
---
THE MOBILE REGISTER
Reviewed by John Sledge
A clear look at photographer Laughlin

Sunday, April 15, 2007

ewas by turns domineering, opinionated, tedious and fussy, but he was also undisputedly a genius. New Orleans photographer Clarence John Laughlin (1905-1985) may have been difficult to like, but his life and significance as a surrealist American artist have long deserved competent analysis.

Happily, this has now been provided in "Clarence John Laughlin: Prophet Without Honor" (Mississippi, $30) by A. B. Meek, professor emeritus of art at Louisiana State University and the author of several previous books on cultural matters. In 200 pages of footnoted text, Meek presents an unvarnished but balanced and deft overview of his prickly subject, a man once hailed as "Edgar Allan Poe with a camera."

Luckily for this project, Laughlin left an enormous collection of prints, negatives, articles and correspondence. "The sheer volume of the Laughlin papers is enormous," Meek writes. "In the history of photography, I know of no one, except perhaps Ansel Adams, who produced more than Laughlin." Meek quotes from these papers extensively, as he should, for Laughlin thought long and deeply about his craft and was vitally concerned with how future historians would evaluate him. Meek is right to question Laughlin's positioning of his work, however, writing that what he "had to say about his photographs ... seems at times to defy historical analysis."

Meek heightens the reader's interest with 40 well-chosen black-and-white illustrations, including reproductions of Laughlin's stunning photographs and, most touching, a shot of the septuagenarian master at rest in a Magazine Street gallery, looking anything but cantankerous.

But as Meek makes abundantly clear, Laughlin was pig-headed to a fault. He could not resist long political tirades when invited to speak in university settings, alienating audiences that were prepared to like him. As one observer wryly remarked, "He was not his own worst enemy, but his own assassin."

Laughlin is best known for his 1948 book, "Ghosts Along the Mississippi," which to date has sold over 100,000 copies. If mystified by his lengthy, loopy philosophical captions, the public was thoroughly beguiled by his large-format, black-and-white photographs of abandoned Louisiana plantation houses. Not content to simply shoot these elegant ruins, Laughlin used dark-robed and veiled female models to powerfully emphasize themes of social and moral decay. His success at making his pictures, captioning them the way he wanted (mostly), and selling them to the book-buying public certainly commands respect. And the historic preservation movement benefitted enormously from the greater awareness and sense of outrage that Laughlin created for the loss of these old treasures.

However, according to Meek, Laughlin continually sabotaged himself with publishers, editors (including Maxwell Perkins) and fellow artists. The wonder is that he got anything before the public at all. During the production of "Ghosts," he whined so much about retaining control over photographic reproduction and his incomprehensible, rambling prose that an exasperated Perkins wrote, "... we are not just printers to whom an author can specify the way in which he wishes his book to appear."

Even erstwhile friends could find themselves on the receiving end of hysterical assaults. Minor White, the editor of Aperture magazine and a great believer in Laughlin's images, learned this in 1956. At issue, as was usually the case between Laughlin and those attempting to showcase his work, was White's insistence that the photographer's verbose captions be cut. Laughlin exploded, and a series of angry letters ensued. Finally, to a hurt White he harrumphed: "Incidentally, I don't think you a bastard -- I think you a politician. (Which, in my estimation, is worse). In other words, you are a politician who knows exactly who the 'important' people are, what to say about them, and their friends, and also, exactly who can be of help to you in making a living."

Not surprisingly, Laughlin's personal life was also stormy. He married five times, twice to the same woman, Elizabeth, and only seems to have found some measure of domestic bliss with her towards the end. Meek is mostly silent about Laughlin's two children, and one wonders what remains unexcavated there. That he was a distant, if not mostly absent father, seems clear.

If he were alive today, Laughlin would probably hate this book. Yet Meek lets him have his say in these pages, to both good and ill effect, and in the end securely situates him within the frame of modern art history. That is a service for which the old man's shade, surely knocking about the French Quarter somewhere, should be eternally grateful.
---