The Healing Presence
Photographs of the Sky and Children's Perceptions of Hope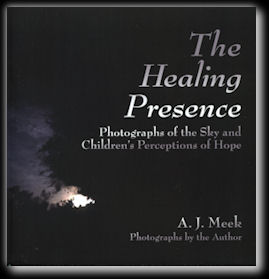 By A. J. Meek
Paperback: 100 pages
Publisher: Sunstone Press (February 10, 2014)
ISBN-10: 0865340323
ISBN-13: 978-0865340329

Do images heal?
Yes they do.
That is the thesis of renowned photographer A. J. Meek with these photographs of the clouds paired with children's perceptions of hope. ''The feeling of freedom is exhilarating,'' Meek says in his photographer's comments for the work contained within. ''The total package of sky and children's perception is designed to evoke a positive healing attitude within the viewer. When studied and meditated upon, the audience cannot maintain a negative thought.'' Heavily influenced by Native American culture, these pictures, which were made in New Mexico and Louisiana, promote a feeling of well-being and inspiration. To be in the world but not of it is certainly the road less traveled and the most challenging for there are no earthly rewards for this choice--only peace.





PURCHASE YOUR COPIES HERE:


---
REVIEWS

''His photographs are a masterful balance of technique, aesthetics, visual content and the mystical. He describes himself as 'a project-oriented photographer' working within the documentary tradition. 'I am interested,' he explains, 'in combining a self-expressive connection with service to the field thus contributing to the awakening of a moral consciousness, the social issues of our time and the enlightenment of the spirit.'''
-- John R. Kemp, former Deputy Director, Louisiana Endowment for the Humanities
FOR MORE INFORMATION, VISIT THE PUBLISHER'S WEBSITE:


---