SACRED LIGHT
Holy Places in Louisiana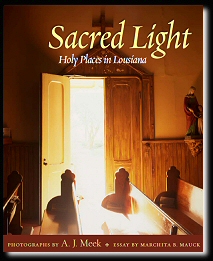 By A. J. Meek
Essay by Marchita B. Mauck
University of Mississippi Press
112 pages (approx.), 9 x 11 inches, 88 color photographs
978-1-60473-741-7 Cloth $35.00
978-1-60473-742-4 Ebook $35.00

A decade's worth of fine art photography taken in the most divine spaces of an elegantly devout state

Renowned photographer A. J. Meek takes the novitiate on an inspired visual journey with eighty-eight color photographs of the interiors of churches and synagogues located in south Louisiana, mostly along the lower Mississippi River valley. Tourists may crowd the famous European cathedrals such as Notre Dame in Paris and Westminster Abbey in London. Yet the splendors of local churches in America all too often remain cloistered and unheralded. Meek's beautiful photographs correct this oversight for Louisiana, a state that features a great many beautiful and long-standing holy places.



Often incorporating long exposures and select framing, the images in the first section of Sacred Light encompass altars, chancels, and sanctuaries. The second section contains photographs of statues representing deities, angels, madonnas, and saints, often seen with intense color derived from stained-glass windows or artificial light. Light itself is the subject of the third and last section. In several photographs, light is transformed by a window into a kaleidoscope of color on a wooden pew or pulpit chair. Other times the light seems to radiate a living presence of its own. Additionally, the book includes an essay by Louisiana State University art historian and liturgical space consultant Marchita B. Mauck.

Sacred Light also contains photographs of some of the church and synagogue restoration projects after Hurricane Katrina. Meek relates that the storm was the shadow he was looking for that defines blessed light. He places emphasis on restoration, not destruction, as a testimony to the resilience of the human spirit.

PURCHASE YOUR COPIES HERE:




A. J. Meek discusses Sacred Light: Holy Places in Louisiana
from University Press of Mississippi on Vimeo.

FOR MORE INFORMATION, VISIT THE PUBLISHER'S WEBSITE:
http://www.upress.state.ms.us/books/1313

VISIT THE GALLERY OF PHOTOGRAPHS BY A. J. MEEK
Click here to enter the gallery.
---
REVIEWS
SACRED LIGHT: HOLY PLACES IN LOUISIANA
Photographs by A.J. Meek; essay by Marchita B. Mauck University Press of
Mississippi, Jackson
$35, 112 pp.

Retired LSU professor A.J. Meek has meticulously and exquisitely captured the beauty of the interiors of Louisiana churches and synagogues in this latest book.

Using the correlation of light to indicate the presence of God, Meek's images utilize available lighting to the fullest for their focus, depth and sense of divinity. Details of art, statuary and architecture highlight many of the captivating images.

In contrast, the damage sustained by many New Orleans churches in the aftermath of Hurricane Katrina causes one to pause at these very visual signs of loss. In his comments at the beginning of the book, Meek explains that it took him until a year after the storm to be able to face these damaged houses of worship to photograph them. He was in the midst of his photo project when Katrina struck, so he has before and after shots of many of these interiors.

New Orleans churches do make up the bulk of the book, which also has photos of Baton Rouge churches and those in surrounding areas. The chapel at the Rosaryville Convent in Springfield is draped in purple for Lent; the sanctuary of the convent chapel at St. Joseph Academy is lit solely by two skylights; and the interior of the Our Lady of Mount Carmel Catholic Church in St. Francisville is bathed in an orange-gold hue radiating from stained glass windows.

Meek is drawn to capture these images for simple reasons, he relates in his comments. " ... being inside offers a quiet refuge from chaos and confusion. It is a search for beauty, and I can make photographs in peace. That is reason enough."
- Judy Bergeron, THE ADVOCATE
---